Tendinitis and Bursitis: Prevention and Treatment
Greetings Club Julian Members,

Our Wellness Wednesday events are held every month and we want to remind you that you are invited to attend them for FREE. Join us on Wednesday, August 3, 2016 (from 1-2pm) for an informative seminar that will focus on Tendinitis and Bursitis.

Dr. Kentaro Onishi, DO, Assistant Director of Sports Medicine from University of Pittsburgh School of Medicine, will discuss symptoms, innovative treatments and preventative measures that can help alleviate Tendinitis and Bursitis. So join us to get your questions answered about this painful condition that affects the knee, elbow, hip, wrist and shoulder - and discover how safe exercises, stretching and other behaviors can help you avoid or successfuly treat this ailment.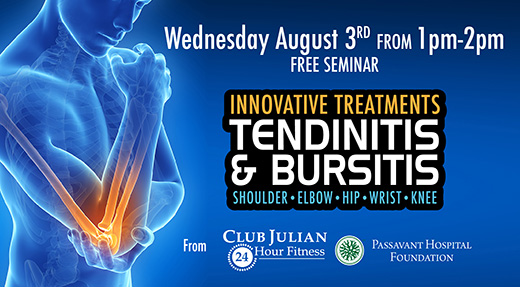 When it comes to maintaining optimum health, Club Julian encourages you to be proactive and have an improved quality of life! Today is the day you can begin to make healthy changes and learn more by joining us for this informative and interactive event.

This event is one of many great reasons to visit Club Julian in August. Call
412-366-1931 to reserve your space or CLICK HERE to RSVP by entering your name and BURSITIS in the comments section. Space is limited so reserve your spot soon.