Learn About Stroke: Rehabilitation, Caring and Recovery
Greetings Club Julian Members,

Our Wellness Wednesday Events are held every month and we want to remind you that you're invited to attend them for FREE. Join us on Wednesday, July 1, 2015 (from 1-2pm) for an informative seminar focusing on Stroke Rehabilitation.

Brain Injury Specialist, Tracy Spitz, and Speech/Language Pathologist, Alyson Mass, both from UPMC Centers for Rehab Services, will be discussing the latest techniques and methods to help with caring for and/or recovering from a stroke.

A stroke can happen to anyone at any time, not just the elderly - and up to 80 percent of strokes are preventable. Be familiar with stroke symptoms (F.A.S.T.) and actions you should take. The faster you respond, the better your chances for a full recovery. This seminar will give you the information you need to know.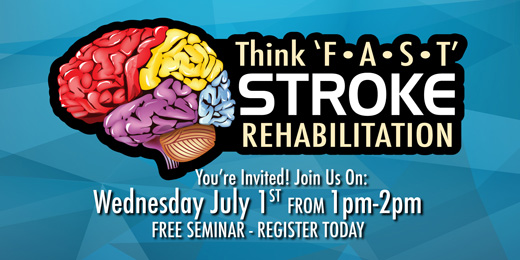 When it comes to maintaining optimum health, Club Julian encourages you to be proactive and have an improved quality of life! Today is the day you can begin to make healthy changes and learn more by joining us for this informative and interactive event.

This event is one of many great reasons to visit Club Julian in July. Call
412-366-1931 to reserve your space or CLICK HERE to RSVP by entering your name and STROKE in the comments section. Space is limited so reserve your spot soon.

Learn more about UPMC Centers for Rehab Services by clicking here.