New Fusionetics Class Improves Your Movement Efficiency
Greetings Club Julian Members,

Club Julian is excited to offer, in partnership with physical therapy professionals from Nova Care Rehabilitation, a new seminar that focuses on movement efficiency. Nearly half of all injuries are caused by overuse and non-contact incidents including previous injuries and poor movement as well as flexibility, movement and strength imbalances between both sides of the body. Get tested to learn your score and discover how Fusionetics can help you move better, perform stronger, reduce injuries and recover faster so you can maintain healthy flexibility of motion!

This complimentary seminar and assessment are being offered at Club Julian on Saturday, Sept., 30 from 1pm - 3pm.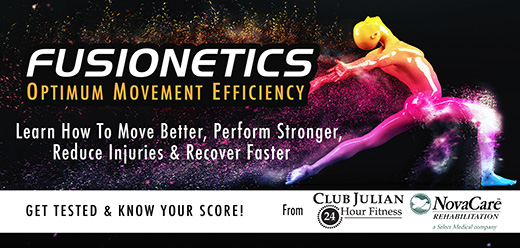 Be sure to register today to save your space for this exciting seminar! Call 412-366-1931 to reserve your space or CLICK HERE to RSVP by entering your name and FUSION in the comments section. Space is limited so reserve your spot soon.

When it comes to maintaining optimum health, Club Julian encourages you to be proactive and have an improved quality of life! Today is the day you can begin to make healthy changes, so don't miss out on this special event.