Free Cardiovascular Health + Blood Pressure Screening
Greetings Club Julian Members,
Start the fall season off with a healthier heart and a happier you!  Join the University of Pittsburgh School of Pharmacy on Saturday, October 15th between 8am - Noon to learn more about how to maintain a strong heart that supports your active lifestyle.

UMPC Students, along with a licensed pharmacist, will be offering free blood pressure screenings and cardiovascular risk evaluations to all interested members. So follow your heart straight to the booth in the main lobby of Club Julian for your assessment, free giveaways and get all your heart health questions answered.

Join us for this informative and interactive event to:
- Blood pressure screenings and cardiovascular risk evaluations
- Medication questions answered by a licensed pharmacist
- High blood pressure & heart disease counsel from student pharmacists
- Free giveaways with participation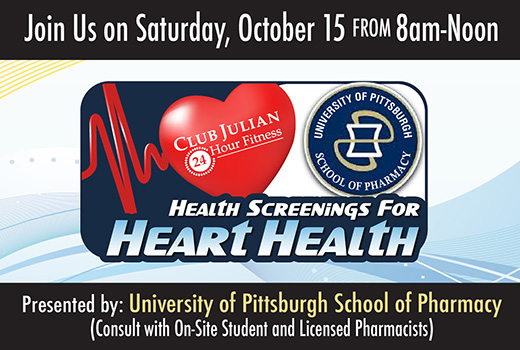 When it comes to your heart health, doing something is always better than nothing! Today is the day you can begin to make healthy changes in your life. Learn more by joining us for this informative event.

This event is one of many great reasons to visit Club Julian in October - so stop by the Club on Saturday between 8am - noon.