Alleviating Depression During The Holidays
Greetings Club Julian Members,

Our Wellness Wednesday events are held every month and we want to remind you that you are invited to attend them for FREE. Join us on Wednesday, November 30, 2016 (from 1-2pm) for an informative seminar that will focus on Coping With The Holidays After The Loss Of A Loved One.

Few events in life are as painful as the death of a spouse or loved one. You may be uncertain how to get through this overwhelming loss and, at times, wonder if you even have the energy or desire to try to heal. As the holiday season draws near, it can often become frightening, overwhelming and sometimes lonely. This seminar presented by Ed Lewis, a UPMC Passavant Bereavement Specialist, will provide practical suggestions to help you move toward healing in your personal grief experience.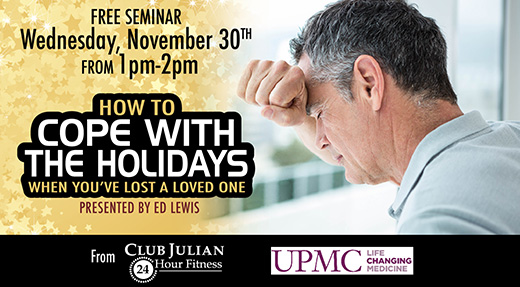 When it comes to maintaining optimum health, Club Julian encourages you to be proactive and have an improved quality of life! Today is the day you can begin to make healthy changes and learn more by joining us for this informative and interactive event.

This event is one of many great reasons to visit Club Julian in November. Call
412-366-1931 to reserve your space or CLICK HERE to RSVP by entering your name and COPING in the comments section. Space is limited so reserve your spot soon.