Understanding Medicare and Social Security
Greetings Club Julian Members,

In March, we're celebrating our anniversary all month long with informative seminars, exciting events and great prizes (click here for a complete list of all anniversary month events). Join us on Tuesday, March 12th, 2019 (from 11am-noon) for a special presentation about Medicare: Everything You Need To Know presented by Aetna Representatives, Frank Cottone and Lauren Sharkey.

Whether you're planning for Medicare or already on it, you'll review valuable options available to you that can maximize your savings and benefits. This question and answer event will help you make sense of all the confusing choices you have about Medicare and which plan works best for your medical and financial needs and budget for the coming year.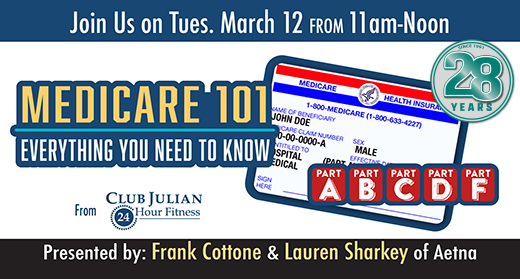 When it comes to maintaining optimum health, Club Julian encourages you to be proactive and have an improved quality of life! Today is the day you can begin to make healthy changes and learn more by joining us for this informative and interactive event.

This event is one of many great reasons to visit Club Julian in March. Call
412-366-1931 to reserve your space or CLICK HERE to quickly RSVP online. Space is limited so reserve your spot soon.