Improve Your Quality of Life at Any Age With Fitness
Greetings Club Julian Members,

Our Wellness Wednesday events are held every month and we want to remind you that you are invited to attend them for FREE. So bring a friend and join us at Club Julian on Wednesday, March 1, 2017 (from 1-2pm) for an informative presentation that will focus on Staying Fit As You Age.

While getting older is a fact of life, 'feeling' old doesn't have to be. Science continues to show us that fitness is the key to improving health, increasing longevity, having more energy and enhancing our quality of life. In this seminar, you'll discover easy ways to add healthy activities into your daily life whatever your level of fitness. Find out how your best days can still be ahead of you!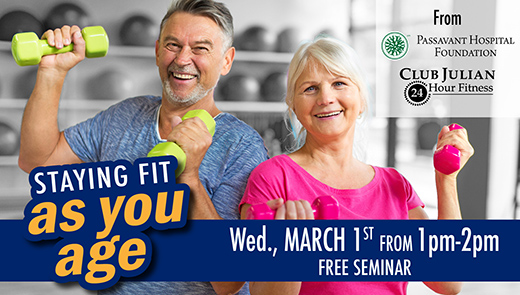 Presented by Craig Maartmann-Moe, DPT, MS, CSCS, and Tracy Spitz, MPT, CBIS, from UPMC Centers for Rehab Services, this interactive session will allow you to ask relevant questions about what role you can play in enhancing your life and overall health through fitness.

When it comes to maintaining optimum health, Club Julian encourages you to be proactive and have an improved quality of life! Today is the day you can begin to make healthy changes and learn more by joining us for this informative event.

This event is one of many great reasons to visit Club Julian in March. Call
412-366-1931 to reserve your space or CLICK HERE to RSVP by entering your name and AGING in the comments section. Space is limited so reserve your spot soon.