New HIPBOX Class with Deawna Returns Sat., Jan. 20
Greetings Club Julian Members,

Back by popular demand at Club Julian, HIPBOX is the latest sensation in group fitness. Join us on Saturday, January 20, 2018 at 10:45am for another chance to try this exciting class hosted by Deawna Alfonsi.

HIPBOX combines authentic basic boxing skills with the fun and energy of dance fitness. Make them miss with breaks, slips, bobs and weaves - and make them pay with jabs, crosses, hooks and uppercuts. Born in New York City and developed by fighters for everyone at every fitness level, this class is like nothing else! Its syncopated rhythm and flow of shadowboxing LOOKS like fighting and FEELS like dancing. Get your sweat on in this high-energy class with Deawna!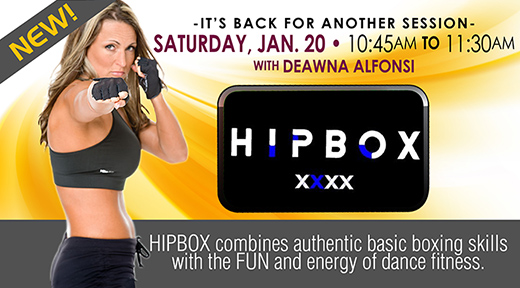 No registration is necessary, but you can CLICK HERE to RSVP by entering your name and HIPBOX in the comments section. Don't miss it! This demo group class is one of many great reasons to visit Club Julian in January.