Experiencing Vertigo? Learn What You Can Do.
Greetings Club Julian Members,

Our Wellness Wednesday events are held every month and we want to remind you that you are invited to attend them for FREE. Join us on Wednesday, December 7, 2016 (from 1-2pm) for an informative seminar that will focus on Vertigo: Causes and Treatments.

Vertigo is a feeling that you or your surroundings are moving when there is no actual movement. You may feel as though you are off balance, spinning, whirling, falling or tilting. While it is common to occasionally feel lightheaded, older adults may experience the condition more frequently causing them to limit their physical and social activities. It can also lead to falls and other injuries.

This seminar, presented by Dana Smithnosky, PT, DPT and Tracy Spitz, MPT, CBIS from UPMC Centers for Rehab Services, will provide insight on the symptoms, causes and treatment options that can help alleviate this condition.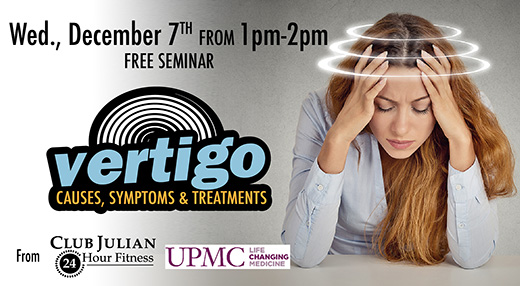 When it comes to maintaining optimum health, Club Julian encourages you to be proactive and have an improved quality of life! Today is the day you can begin to make healthy changes and learn more by joining us for this informative and interactive event.

This event is one of many great reasons to visit Club Julian in December. Call
412-366-1931 to reserve your space or CLICK HERE to RSVP by entering your name and VERTIGO in the comments section. Space is limited so reserve your spot soon.