We're Proud Of Our Members - We Want To Feature You!
Calling All Club Julian Members,

Changing lives and getting results is what we're all about at Club Julian 24-Hour Fitness. Over the past 25 years, hundreds of our members have experienced amazing journeys of progress and perseverance! As part of our 25th Anniversary Celebration this year, Club Julian is excited to showcase more inspiring member achievements - so tell us, what's your story?

For our upcoming fall campaign, we're looking for members to step forward and share their remarkable results with the world. Your story could be featured in upcoming TV, print, social media and web videos. In addition to becoming incredibly super famous as an 'ambassador of the Club,' you could receive free membership time or other perks based on your level of participation.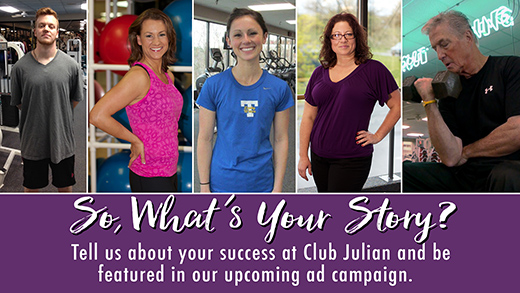 Here are just some of the types of stories we are looking to highlight:
• 25 lbs. or more of weight loss
• Measurable strength training goals that you have achieved
• A Personal Training experience that changed your life
• Life-changing wellness achievements that Club Julian helped you accomplish

Interested? Just email the Club's ad agency contact Kevin Truffa at kevin@321blink.com or leave a note at front desk with a brief description of yourself and your accomplishments at Club Julian. Be sure to include your contact information when you reach out so we can follow-up and possibly arrange an interview to discuss your role in the upcoming campaign. Hope to hear from you soon!