Join Us For Women's Health Day On August 10
Greetings Club Julian Members,

Club Julian is pleased to present Women's Health Day on Wednesday, August 10th. Join us for a special morning of informative seminars that will focus on important health topics that are specific to women. You and a friend are invited to attend this special event for FREE. Complimentary coffee and tea will be served and a healthy brown bag lunch is included at the end of the seminar.

Brought to you by the American Heart Association, Passavant Hospital Foundation, and Divekar & Associates, presenters from these organizations will discuss heart health, skin care and menopause issues in our Aerobics Studio on the first floor. See the detailed schedule of events below.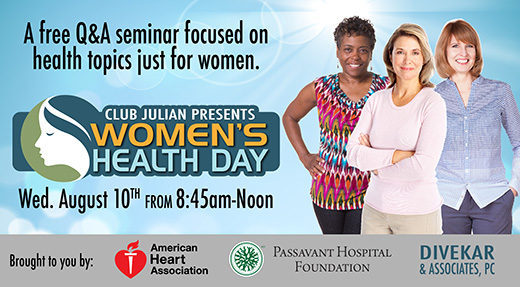 When it comes to maintaining optimum health, Club Julian encourages you to be proactive and have an improved quality of life! Today is the day you can begin to make healthy changes and learn more by joining us for this informative event.

This event is one of many great reasons to visit Club Julian in August. Call
412-366-1931 to reserve your space or CLICK HERE to RSVP by entering your name and WOMEN'S DAY in the comments section. Space is limited so reserve your spot soon.

TIME
AUGUST 10TH EVENT SCHEDULE

8:45am - 9am
Complimentary Coffee and Teas

9am - 10am
Women's Heart Health
Signs of a heart attack in women differ from men's symptoms. Be prepared to recognize them and learn how to prevent them.
By The American Heart Association
10am - 11am
Women's Health After Menopause
Learn about physiological and hormonal changes in the body and the effects of menopause - and how to manage them.
Presented by: Dr. Divekar, from Divekar and Associates, PC
11am - Noon
Skin Care After Menopause
Lower levels of estrogen have a big impact on your skin.
Learn how to keep skin healthy and beautiful as you get older.
Presented by: Dr. Divekar, from Divekar and Associates, PC
Noon
Complimentary Healthy Brown Bag Lunch