Using Trigger Point Therapy To Manage Pain
Greetings Club Julian Members,

Club Julian is hosting a special wellness event this month and we want to remind you that you're invited to attend for FREE. Join us on Monday, September 24, 2018 (from 2-3pm) for an informative seminar covering the benefits of Trigger Point Therapy.

Shannon Thieroff, of Choice Restorative Medicine, will be discussing how Trigger Point Therapy (TPT) can be effective in treating chronic headaches, muscle tension, fibromyalgia and other pain. Shannon will also review the various types of therapies available.

Trigger points are areas in muscle fibers that become short, tight and uncomfortable. If you have a knot or tight area that keeps coming back, it's probably a trigger point. They are often a result of trauma, injury or overuse. Left untreated these trigger points can cause serious problems with pain and movement and posture. Trigger Point Therapy is sometimes referred to as myofascial or neuromuscular therapy. This interactive seminar can help you determine if TPT could benefit you.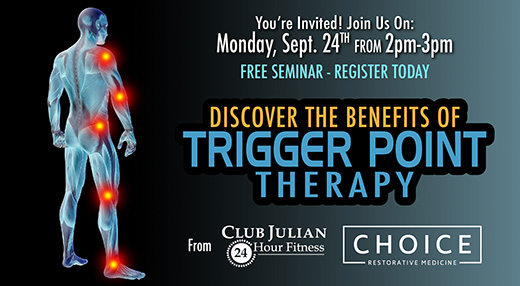 When it comes to maintaining optimum health, Club Julian encourages you to be proactive and have an improved quality of life! Today is the day you can begin to make healthy changes and learn more by joining us for this informative and interactive event.

This event is one of many great reasons to visit Club Julian in September. Call
412-366-1931 to reserve your space or CLICK HERE to quickly RSVP online. Space is limited so reserve your spot soon.