Attention Men! September Is Prostate Health Focus Month
Greetings Club Julian Members,

Our Wellness Wednesday Events are held every month and we want to remind you that you're invited to attend them for FREE. Join us on Wednesday, September 12, 2018 (from 1-2pm) for an informative seminar focusing on Prostate Health.

James McCague, MD FACS, assistant professor of urology at University of Pittsburgh School of Medicine, will be discussing men's health issues related to prostate wellness. Learn about new dietary studies, risks, symptoms and available treatments to help you maintain your best health (or the health of the men in your life).

Prostate cancer is the second most common cancer among men (after skin cancer) and it is often treated successfully when it's caught early. According to the Cancer Treatment Centers of America, One in SIX men will be diagnosed with prostate cancer during his lifetime so be prepared with all the knowledge you'll need to know in this presentation.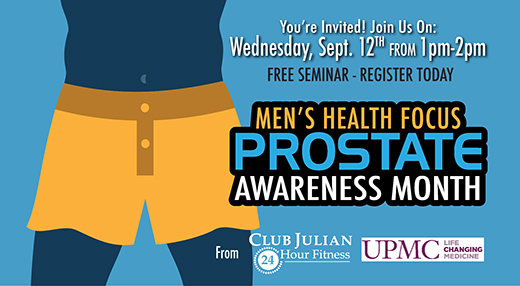 When it comes to maintaining optimum health, Club Julian encourages you to be proactive and have an improved quality of life! Today is the day you can begin to make healthy changes and learn more by joining us for this informative and interactive event.

This event is one of many great reasons to visit Club Julian in September. Call
412-366-1931 to reserve your space or CLICK HERE to quickly RSVP online. Space is limited so reserve your spot soon.