Be Prepared - Get Your CPR and First Aid Certifications
Greetings Club Julian Members,

Life can often present us with unexpected situations at the worst times. The best way to handle them is to be prepared. Club Julian is pleased to host two seminars on Saturday, September 16 covering certified CPR / AED and First Aid Training that will help you respond to life-threating emergencies. Learn the skills you need to confidently react to situations that could save the life of loved ones or bystanders.

Join us at Club Julian on September 16 to take part in the following training classes:
• 2:00-3:30pm: CPR / AED Training with 2-year certification ($30 fee)
• 3:30-5:00pm: First Aid Training with 2-year certification ($30 fee)

Members and non-members are invited to register for either or both events by calling the club at 412-366-1931 to reserve your space or CLICK HERE to RSVP by entering your name and CPR or FIRST AID in the comments section. Payment can be made at the front desk before the class.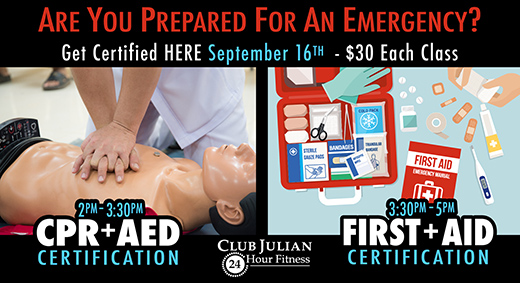 Situations may arise when you come across someone whose heart or breathing has stopped. Immediate action with CPR, or using an available AED, is the most effective way to save that individual, as an ambulance may not arrive for minutes. Providing CPR could mean the difference between life and death for someone who's unconscious, doubling the chances of survival. Knowing first aid techniques can also be helpful in many situations. So be sure join us for this informative and interactive event.