Introducing New Triple Option Referral Rewards Program
Greetings Club Julian Members,

Club Julian's new Triple Option Referral Rewards program allows you to choose one of three valuable rewards for each new member referral you make. As an extra bonus, we'll waive the enrollment fee for your guest(s) if they join during their first visit when using their guest pass.

It's easy to get started today! Refer your friends, family members or co-workers (18 years of age or older) to try Club Julian and, for each guest who joins, you can select one free month of membership time (code A), a $25 cash award (code B), or a Spa-Tacular certificate for 5 free tanning sessions or one 30-minute massage (code C)! The more referrals you make, the more rewards you can earn. Plus, for each new referral you make who joins the club, you're automatically entered into a drawing for a chance to win TWO tickets to the Steelers vs. Browns game on December 31, 2017!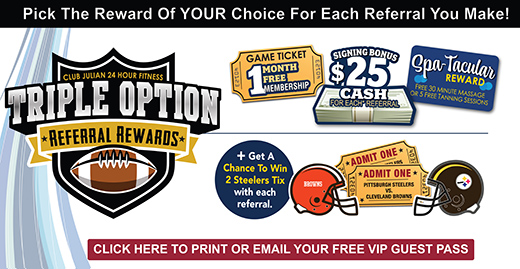 Just pass along an all-access 1-day VIP guest pass to your referral(s). Click here to download it, print it out and present it directly - or simply e-mail it. Specify the promo code for the prize of your choice on the guest pass. You can also pick up extra VIP guest passes at the front desk at the Club. Get all of our great referral bonus offers all year long - make sure to send an email to MemberService and get on the mailing list or connect with us on social media.

So share everything you love about Club Julian with somebody by inviting them to try the Club - and earn some valuable rewards for yourself.

Referrals must be at least 18 with photo ID, for a 12-month membership and can only be invited by current Club Julian members in good standing. Guests must accompany member on their first visit or contact club to setup appointment. Referrals covered by UPMC Silver & Fit or Advantra programs are not eligible for this offer. Not valid with other offers. See consultant for other restrictions that may apply.