Get Your Groove On With A Free Disco Lesson Sept. 30

Greetings Club Julian Members,

If you love the sounds of the Seventies, now is your chance to have some fun and brush up on your dusty disco moves. Club Julian is excited to introduce its new "Intro To Disco" series, hosted by Thom Harding. And best of all, you can try the first session for free on Friday September 30 at 7pm. You do not need a partner to participate and no dance experience is necessary. Members and non-members are invited, but space is limited so be sure to register today.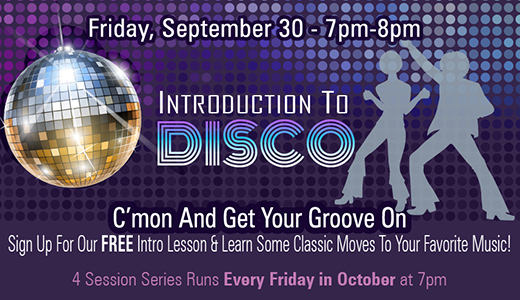 Then, a four-part series will run every Friday from 7pm-8pm in our group fitness studio beginning on October 7. All four classes are just $30 for members and $40 for non-members. So bring a friend and have a great time dancing (and exercising) to great music on Friday nights - but leave your platform shoes at home. Payment can be made at the front desk before your first class.

Space is limited so register today! Call the Club at 412-366-1931 to reserve your space or CLICK HERE to RSVP by entering your name and DISCO in the comments section.