Macular Degeneration: Preserving Eye Health With Age
Greetings Club Julian Members,

Our Wellness Wednesday Events are held every month and we want to remind you that you're invited to attend them for FREE. Join us on Wednesday, October 2, 2019 (from 1-2pm) for an informative seminar focusing on Macular Degeneration and Preserving Eye Health. This seminar was rescheduled from September.

Age-Related Macular Degeneration (AMD) is a common eye condition and a leading cause of vision loss among people age 50 and older. It causes damage to the macula, a small spot near the center of the retina and the part of the eye needed for sharp, central vision, which lets us see objects that are straight ahead. Researchers have found links between AMD and some lifestyle choices, such as smoking. You might be able to reduce your risk of AMD or slow its progression by making healthy lifestyle choices.

Presented by Holly Stants, MS, OTR/L, UPMC Senior Occupational Therapist, this question and answer seminar will help you understand risk factors and symptoms of AMD. Plus, learn about genetic influences as well as new dietary and lifestyle considerations that may help avoid or delay the development of AMD.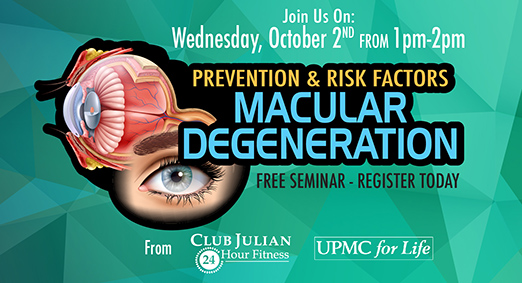 When it comes to maintaining optimum health, Club Julian encourages you to be proactive and have an improved quality of life! Today is the day you can begin to make healthy changes and learn more by joining us for this informative and interactive event.

This event is one of many great reasons to visit Club Julian in October. Call
412-366-1931 to reserve your space or CLICK HERE to quickly RSVP online. Space is limited so reserve your spot soon.