Discover Common Food Myths That May Shock You
Greetings Club Julian Members,

Club Julian is hosting a special wellness event this month and we want to remind you that you're invited to attend for FREE. Join us on Wednesday, October 3, 2018 (from 1-2pm) for an informative seminar to uncover the truth behind many of the Myths of Common Foods We Eat Everyday.

Jennifer Sotirake, a Registered Dietician, will reveal why some of the misconceptions we have about food could be sabotaging our diets and our health. Are eggs evil? Are carbs bad? Does eating fat make me fat? Is margarine better than butter? Are dairy products best for strong bones? Ditch your old-school thinking and get savvy to the latest healthy eating facts.

After all these years of being told false information by family and the media it's no wonder many people still believe some of the most common food myths to be true. This interactive seminar will show you which foods could benefit your diet and health. So get ready, some major truth bombs are coming your way.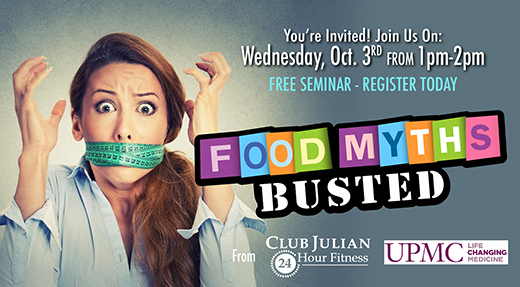 When it comes to maintaining optimum health, Club Julian encourages you to be proactive and have an improved quality of life! Today is the day you can begin to make healthy changes and learn more by joining us for this informative and interactive event.

This event is one of many great reasons to visit Club Julian in October. Call
412-366-1931 to reserve your space or CLICK HERE to quickly RSVP online. Space is limited so reserve your spot soon.