Tips To Kick The Flu Virus This Year - Wed., Nov. 6
Greetings Club Julian Members,

Our Wellness Wednesday Events are held every month and we want to remind you that you're invited to attend them for FREE. Join us on Wednesday, November 6, 2019 (from 1pm - 2pm) for a complimentary seminar covering the most effective ways to avoid contracting this year's influenza virus.

Did you know that between 9.2 million and 35.6 million cases of flu arise each year in the United States? Flu is responsible for around 140,000–710,000 hospitalizations and 12,000–56,000 deaths annually. It is a highly contagious respiratory illness that is caused by influenza types A and B viruses. Flu activity often begins in October in the U.S., peaks December through February, and sometimes lasts until as late as May. Groups at a greater risk of flu complications include young children, pregnant women, adults over the age of 65 years, and those with chronic medical conditions.

So join us on Wednesday, November 6, 2019 (from 1pm - 2pm) to learn the basics to protect yourself from risk and the steps you can take to minimize your exposure, build up your immunity, and reduce your risk of infection. And how to recover more quickly if you do catch it.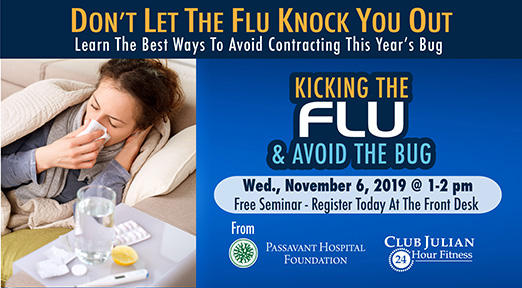 When it comes to maintaining optimum health, Club Julian encourages you to be proactive and have an improved quality of life! Today is the day you can begin to make healthy changes and learn more by joining us for this informative and interactive event.

This event is one of many great reasons to visit Club Julian in November. Call
412-366-1931 to reserve your space or CLICK HERE to quickly RSVP online. Space is limited so reserve your spot soon.