November is Diabetes Awareness Month
Greetings Club Julian Members,

Our Wellness Wednesday Events are held every month and we want to remind you that you're invited to attend them for FREE. Join us on Wednesday, November 7, 2018 (from 1-2pm) for an informative seminar focusing on Diabetes Health And Wellness.

Kelly Szelc, of UPMC Passavant Diabetes Support Group, will be discussing topics that include recognizing family risk factors and the symptoms of diabetes, glucose monitoring, treatments for diabetes and even lifestyle tips that can dramatically prevent or delay the onset of diabetes. This question and answer seminar will give you the chance to ask a professional about any specific concerns you may have.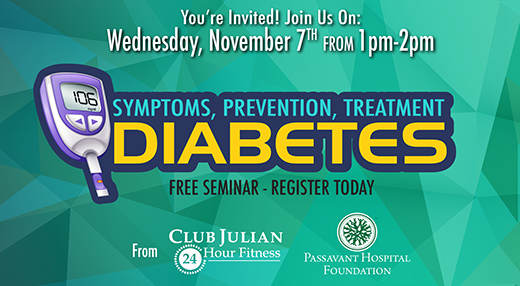 The percentage of Americans age 65 and older with diabetes is 25.9% (diagnosed and undiagnosed).  Diabetes is the 7th leading cause of death in the United States in 2010 and is a primary cause or contributing factor in heart disease, stroke, kidney disease, and blindness. Common symptoms of diabetes include:
> Urinating often
> Feeling very thirsty or hungry - even though you are eating
> Extreme fatigue
> Blurry vision
> Cuts/bruises that are slow to heal
> Weight loss - even though you are eating more (type 1)
> Tingling, pain, or numbness in the hands/feet (type 2)

When it comes to maintaining optimum health, Club Julian encourages you to be proactive and have an improved quality of life! Today is the day you can begin to make healthy changes and learn more by joining us for this informative and interactive event.

This event is one of many great reasons to visit Club Julian in November. Call
412-366-1931 to reserve your space or CLICK HERE to quickly RSVP online. Space is limited so reserve your spot soon.