One-Hour Boot Camp: 4 Weeks To Financial Organization
Greetings Club Julian Members,

Club Julian is pleased to announce the latest seminar in our Financial Fitness series. This event is part of our Wellness Wednesday event programming and you are invited to attend for FREE. Join us on Wednesday, November 29th, 2017 (from 1-2pm) for an informative "one-hour boot camp" session that will show you how to get your Finances Organized In Four Weeks. The event is open to members and non-members, so feel free to bring a friend.

This seminar, presented by Jessica Sharbaugh, AVP, of S&T Bank, will show you effective, specific steps you can take to get your financial house in order fast. From organizing insurance and investment documents to creating and sticking to budgets, with many other financial questions answered throughout, Ms. Sharbaugh will get you on track to quickly meeting your financial goals.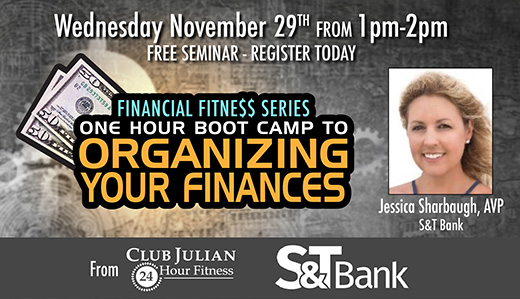 Discover all of the options available to you in this interactive event and learn how to manage and protect your wealth so it can do the most good for you. This seminar will give you the information you need to know.

This event is one of many great reasons to visit Club Julian in November. Call
412-366-1931 to reserve your space or CLICK HERE to RSVP by entering your name and ORGANIZE in the comments section. Space is limited so reserve your spot soon.