Can Acupuncture Relieve Pain, Stress and Anxiety?
Greetings Club Julian Members,

Our Wellness Wednesday Events are held every month and we want to remind you that you're invited to attend them for FREE. Join us on Wednesday, May 1, 2019 (from 1-2pm) for an informative seminar focusing on the benefits of acupuncture.

A key component of traditional Chinese medicine, acupuncture is most commonly used to treat pain, including chronic headaches, neck and back pain, osteoarthritis, menstrual cramping, and chemotherapy-related nausea. Increasingly, it is being used for overall wellness, including stress and anxiety management. The procedure involves a virtually painless insertion of micro-thin needles into key pathways of your body to re-balance energy flow, mitigate pain and stimulate connective tissue.

This seminar is presented by K.K. Teh, LAc and MAc, an acupuncturist and Chinese herbalist from UPMC's Team of Integrative Medicine Experts. Teh is experienced in utilizing Tan's Balance Method and Battlefield Acupuncture, powerful yet minimal needling techniques that improves pain instantaneously. This question and answer seminar will help you learn if acupuncture could benefit your overall wellness or pain management issues.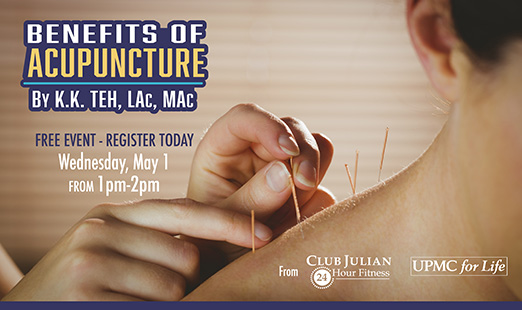 When it comes to maintaining optimum health, Club Julian encourages you to be proactive and have an improved quality of life! Today is the day you can begin to make healthy changes and learn more by joining us for this informative and interactive event.

This event is one of many great reasons to visit Club Julian in May. Call
412-366-1931 to reserve your space or CLICK HERE to quickly RSVP online. Space is limited so reserve your spot soon.