Join Us For A Little Line Dancing Fun in March
Greetings Club Julian Members,
Club Julian's month-long 27th Anniversary celebration continues with T-shirts, prizes, special programming, contests and so much more and we want to remind you that you're invited to join in the fun!

Join us on Saturday, March 24 from 2pm-4pm as professional dance and Pilates instructor - and also personal trainer - Shirley Shultz shows you how to have fun and stay fit with her new Introduction To Line Dancing class. We'll kick up our heels and learn some traditional line dance moves to a variety of music genres including country and pop. And for those who want to continue the fun and learn more, Shirley is following-up with an in-depth 6-week Line Dancing series. Find out what it's all about - bring your tennis shoes and get ready to have some fun on March 24!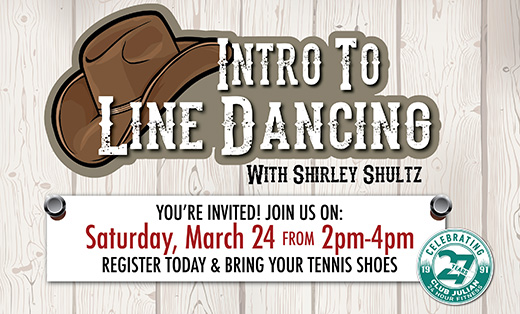 This seminar is one of many great reasons to visit Club Julian during March Anniversary Month. Call 412-366-1931 to reserve your space or CLICK HERE to RSVP by entering your name and LINE INTRO in the comments section. Space is limited so reserve your spot soon.

Check out all of our Anniversary events on our calendar by clicking below - then stop in and celebrate!