March Anniversary Month Events Reminder
Greetings Club Julian Members,

Club Julian's 26th Anniversary celebration continues this month with prizes, special programming, contests and so much more! We invite you to join us for these upcoming special events and let you know that, as a member, you are invited to attend them for free. Non-members are also welcome, so bring a friend along.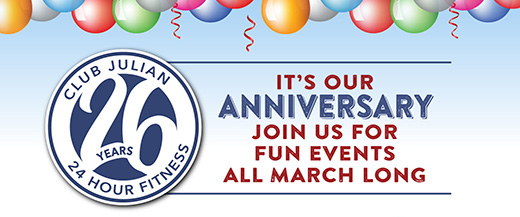 On Saturday, March 25, (from 1-2pm) Dr. Tracey Mullinary of Results Family Chiropractic will present a Chiropractic Care and Sports seminar. Dr. Tracey will discuss the best ways to improve your mobility and performance while minimizing back pain and spinal injuries.





On Wednesday, March 29 (from 1-2pm) Dr. Daniel Doyle from Newman Chiropractic will present a seminar on Better Digestive Health. Dr. Doyle will cover why "you are what you eat" with his 7 easy steps to improved digestive health and why two out of three people experience digestive diseases.

These events are just a few great reasons to visit Club Julian in March. Call
412-366-1931 to reserve your space or CLICK HERE to RSVP by entering your name (and your guest, if applicable) and the name of the seminar you want to attend in the comments section. Space is limited so reserve your spot soon.

Check out the full roster of upcoming Anniversary Month events by clicking here.