Healthy Brain Function: Preserving Your Mental Edge
Greetings Club Julian Members,

Our Wellness Wednesday Events are held every month and we want to remind you that you're invited to attend them for FREE. Join us on Wednesday, March 4, 2020 (from 1pm - 2pm) for an informative seminar focusing on healthy brain function.

Cognitive health tends to decline as we age. Genetic factors and injuries can also compromise our ability to clearly think, learn, and remember. But there are many things we can do to maintain and even strengthen our mind's ability to function and preserve mental sharpness for a lifetime. Maintaining a healthy diet and staying active physically, intellectually and socially are proven techniques that make a difference in prolonging mental capacity.

Cognitive health is an important component of overall brain health which also includes motor function, emotional function, and sensory function. Presented by Alyson Mass, MS, CCC, SLP/L, Speech Language Pathologist and Mary Kay Walsh, PT, DPT, MS, Neurorehabilitation Physical Therapist, from UPMC Centers for Rehab Services, this question and answer seminar will help you learn new ways to improve your mental clarity.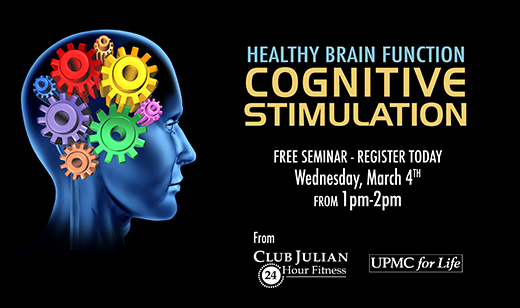 When it comes to maintaining optimum health, Club Julian encourages you to be proactive and have an improved quality of life! Today is the day you can begin to make healthy changes, so don't miss out on this special event.

This event is one of many great reasons to visit Club Julian in March. Call
412-366-1931 to reserve your space or CLICK HERE to quickly RSVP online. Space is limited so reserve your spot soon.