Lyme Disease: Symptoms, Prevention, Treatment
Greetings Club Julian Members,

Club Julian is excited to host a series of wellness-related events and seminars during our anniversary month in March and we want to remind you that you're invited to attend them for FREE. Join us on Wednesday, March 6, 2019 (from 1-2pm) for an important seminar about Lyme Disease that you should not miss.

Lyme Disease can be prevalent in our region, especially during the warmer months. It is transmitted to humans through the bite of infected black-legged ticks and, if left untreated, infection can spread to joints, the heart, and the nervous system. Recognizing the symptoms and treating Lyme's early can make all the difference in avoiding long-term complications. Early symptoms include headaches, nerve pain, neck stiffness, facial palsy and numbness in the hands and feet.

Libby Ernhart, PA-C, of Romano Pontzer & Associates, Infectious Diseases and UPMC Passavant Hospital, will cover what Lyme Disease is, how it's transmitted in Western Pennsylvania, how to recognize it and, more importantly, what to do to help prevent it.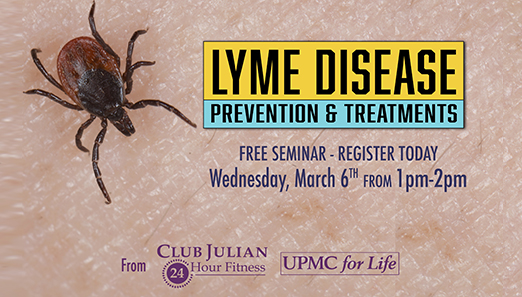 When it comes to maintaining optimum health, Club Julian encourages you to be proactive and have an improved quality of life! Today is the day you can begin to make healthy changes and learn more by joining us for this informative and interactive event.

This event is one of many great reasons to visit Club Julian in March. Call
412-366-1931 to reserve your space or CLICK HERE to quickly RSVP online. Space is limited so reserve your spot soon.