Lower Back Pain Prevention, Treatments, March 20 Event
Greetings Club Julian Members,

Club Julian is excited to host a series of wellness-related events and seminars during our anniversary month in March and we want to remind you that you're invited to attend them for FREE. Join us on Wednesday, March 20, 2019 (from 1-2pm) for an informative seminar about Preventing Lower Back Pain.

About 80 percent of adults experience low back pain at some point in their lifetimes. The most common cause is trauma-related, including muscle strain often related to heavy physical labor, lifting or forceful movement, bending or twisting into awkward positions, or standing in one position too long. Degenerative (age-related) causes can also be a factor leading to pain.

David Campagna, PT, DPT, of Physical Rehabilitation Services, will discuss specific actions and workout techniques that you can do to prevent lower back pain - and treatments that can help alleviate chronic pain if you already have it.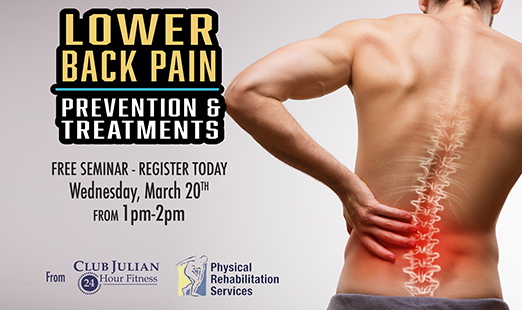 When it comes to maintaining optimum health, Club Julian encourages you to be proactive and have an improved quality of life! Today is the day you can begin to make healthy changes and learn more by joining us for this informative and interactive event.

This event is one of many great reasons to visit Club Julian in March. Call
412-366-1931 to reserve your space or CLICK HERE to quickly RSVP online. Space is limited so reserve your spot soon.