Your Perfect Fit - Athletic Shoe Sizing Seminar March 3
Greetings Club Julian Members,

Club Julian is kicking off our 27th anniversary month with a bunch of exciting events and seminars and we encourage you to join in! So get started and stop by the club on Saturday, March 3, 2018 (at 2pm) for our complimentary If The Shoe Fits sizing seminar and learn how to find your perfect fit footwear. Feel free to bring a friend.

Whether you are a master marathoner or a mall walker, your footwear is probably the most important workout gear you own.  But not all shoes are created the same.  There are many differences between brands and models, and finding the right fit for your feet can make all the difference in not only your performance, but also your ability to stay injury-free.

The Club Julian Running Crew (CJRC) welcomes footwear expert Ed Doyle, owner of UP 'N RUNNING Specialty Running & Walking Center in Valencia, to discuss what to look for in your next footwear selection based on your activities, foot type, and other factors. Mr. Doyle will review the basic fundamentals, bring shoe and sock samples to illustrate proper sizing, and answer your questions about which shoe is the best fit for you. Plus, attendance will earn you a bonus point toward free prizes in the Sweat 16 Anniversary Month challenge. Click here to join up with the CJRC!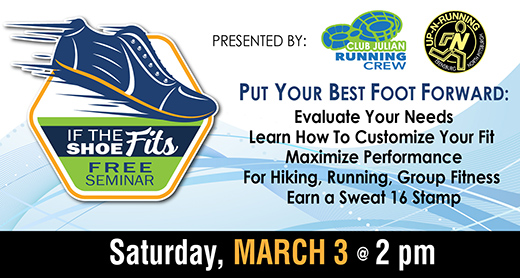 When it comes to maintaining optimum health, Club Julian encourages you to be proactive and have an improved quality of life! Today is the day you can begin to make healthy changes and learn more by joining us for this informative event.

This event is one of many great reasons to visit Club Julian during March's Anniversary Month. Call 412-366-1931 to reserve your space or CLICK HERE to RSVP by entering your name and SHOES in the comments section. Walk-ins are welcome.