Earn Anniversary Cash Rewards + Loyalty Bonus Bucks!
Greetings Club Julian Members,

Club Julian's month-long 27th Anniversary celebration continues with T-shirts, prizes, special programming, contests and so much more!

Our Big 27 Bonus Referral Rewards program earns you $27 cash plus bonus loyalty bucks for each new member referral you make. As an extra bonus, we'll waive the enrollment fee for your guest(s) if they join during their first visit when using their guest pass.

It's easy to get started today! Refer your friends, family members or co-workers (18 years of age or older) to try Club Julian and, for each guest who joins, you earn $27 cash plus an extra $1 for each year you've been a Club Julian member!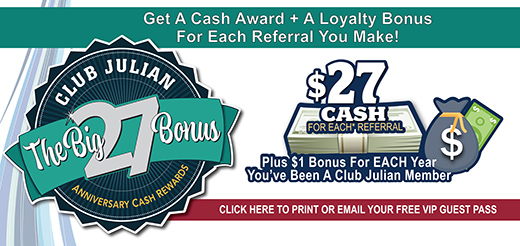 Just pass along an all-access 1-day VIP guest pass to your referral(s). Click here to download it, print it out and present it directly - or simply e-mail it. You can also pick up extra VIP guest passes at the front desk at the Club.

So share everything you love about Club Julian with somebody by inviting them to try the Club - and earn some valuable rewards for yourself. Check out all of our Anniversary events on our calendar by clicking below - then stop in and celebrate with us!






Referrals must be at least 18 with photo ID, for a 12-month membership and can only be invited by current Club Julian members in good standing. Guests must accompany member on their first visit or contact club to setup appointment. Referrals covered by UPMC Silver & Fit or Advantra programs are not eligible for this offer. Not valid with other offers. See consultant for other restrictions that may apply.