Line Dancing Returns June 12 With New Five-Week Series!
Greetings Club Julian Members,
Club Julian's Line Dancing classes are back by popular demand! If you didn't have the chance to join in the fun during the prior series in May, you have another opportunity to kick up your heels with a new session beginning next week.

The new five-week series runs Wednesdays June 12 through July 17(no class on July 3).

Professional dance and Pilates instructor - and also personal trainer - Shirley Shultz covers all the basic steps as we kick up our heels and learn some traditional line dance moves to a variety of music genres including country and pop. If you've ever wanted to feel confident and join in at an event when the line dancing starts, this is the place to begin (or to continue where you left off from our previous classes). Bring your tennis shoes and get ready to have some fun!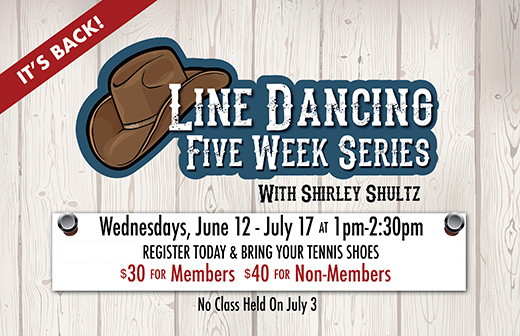 All 5 classes are just $30 for members and $40 for non-members - so bring a friend and have a great time on Wednesday afternoons. Payment can be made at the front desk before your first class.Call 412-366-1931 to reserve your space or CLICK HERE to quickly RSVP online. Space is limited so reserve your spot soon. Space is limited so reserve your spot soon.