What Is Celiac Disease? How Can It Affect Your Health?
Greetings Club Julian Members,

Our special wellness events are held every month and we want to remind you that you're invited to attend them for FREE. Our seminar addressing the symptoms and effects of Celiac Disease has been rescheduled - please join us on Monday, July 22, 2019 (from 2-3pm).

Celiac disease is a serious condition that occurs in genetically predisposed people where the ingestion of gluten triggers an autoimmune response, which leads to damage in the small intestine and can compromise nutrient absorption if left untreated. It is estimated to affect 1 in 100 people worldwide. Two and one-half million Americans are undiagnosed and are at risk for long-term health complications. Celiac disease is hereditary, meaning that it runs in families.

Presented by UPMC Passavant Nutrition Counseling, this seminar will review the variety of symptoms (which can be different between adults and children) that are indicative of Celiac Disease and, most importantly, what you can do to manage the condition and minimize its effects.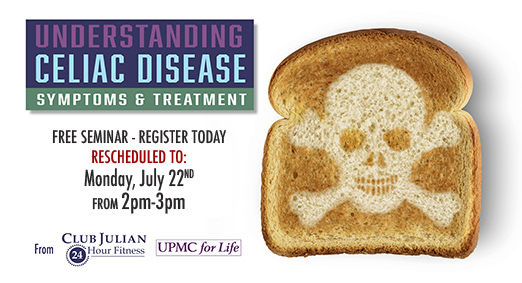 When it comes to maintaining optimum health, Club Julian encourages you to be proactive and have an improved quality of life! Today is the day you can begin to make healthy changes and learn more by joining us for this informative and interactive event.

This event is one of many great reasons to visit Club Julian in June. Call
412-366-1931 to reserve your space or CLICK HERE to quickly RSVP online. Space is limited so reserve your spot soon.