Join Deawna And Jen's Mega Dance Party Fri., July 13!
Greetings Club Julian Members,

Get your glow on! Deawna Alfonsi and Jen Pearson are pumping up the funky fun for an all-new edition of their Friday Night Dance Party! This exciting two hour event happens on Friday, July 13 from 5:30pm-7:30pm.

They're back to team-teach this Mega Dance Fitness Party featuring your favorite songs from RAvEnergy! and Zumba. This party brings back the fun nightclub vibes, dance floor lighting, amazing giveaways, glow sticks - and healthy snacks!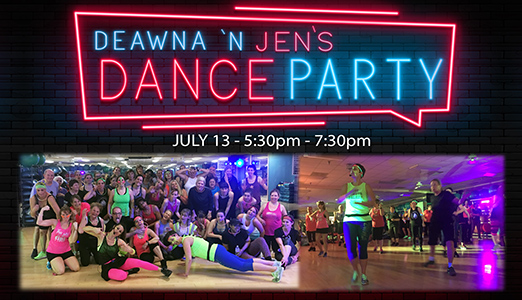 Registration is NOT necessary but if you'd like to RSVP, just CLICK HERE to do it online. Feel free to attend part or all of the party as you wish and also feel free to bring a guest - the more the merrier! New guests and members receive complimentary admission and returning non-member guests can join the fun for only $10 each with photo ID. Please coordinate payment at the front desk. And if there's a song you haven't heard in class for a while, click to email Deawna@D-Fit.com or Jen P. and let them know your song request before the party (the sooner the better).