Financial Fitness Series IV: Philanthropic Planning
Greetings Club Julian Members,

Club Julian, in partnership with Passavant Hospital Foundation, is excited to announce the fourth seminar in our four-part series focusing on Financial Fitness. This event is part of our Wellness Wednesday seminar programming and you're invited to attend for FREE. Join us on Wednesday, July 20th, 2016 (from 2-3pm) for an informative event about Physical, Financial and Philanthropic Planning. The event is open to members and non-members, so feel free to bring a friend.

Financial planning pro Christoper Kelly, Vice President of PNC Institutional Asset Management, will be discussing how charitable planning can enhance your financial strength to make a bigger impact on the causes you and your family care about. Get valuable assistance for keeping your carefully gathered assets diversified (without necessarily generating capital gain tax liability) while continuing to comfortably contribute to the charitable missions you support. Be physically, financially and philanthropically fit to make the right decisions as you plan for your future and for your your assets, heirs, charities and other beneficiaries.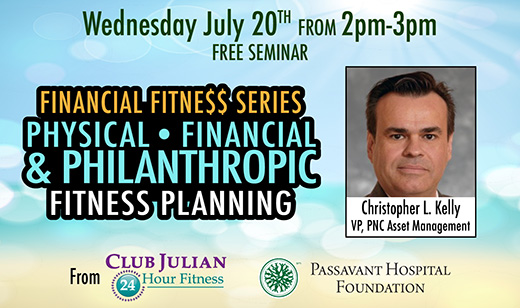 Find out in this question and answer event how to manage, transfer and protect your wealth to do the most good for those you care about. This seminar will give you the information you need to know.

This event is one of many great reasons to visit Club Julian in June. Call
412-366-1931 to reserve your space or CLICK HERE to RSVP by entering your name and PLANNING in the comments section. Space is limited so reserve your spot soon.