Get The Facts: Osteoporosis Treatment & Prevention
Happy New Year Club Julian Members!

Our Wellness Wednesday Events are held every month and we want to remind you that you're invited to attend them for FREE. Join us on Wednesday, January 15, 2020 (from 1pm - 2pm) for an informative seminar focusing on symptoms, treatments and prevention of Osteoporosis.

The body constantly absorbs and replaces bone tissue. With osteoporosis, new bone creation doesn't keep up with old bone removal causing the density and quality of bone mass to be reduced. This loss of bone occurs silently and progressively. Often there are no symptoms until the first fracture occurs. It's estimated that 1 in 3 women and 1 in 5 men aged fifty years and over are at risk of an osteoporotic fracture.

The good news is there are many steps that can be taken to prevent and diagnosis osteoporosis. It is now a largely treatable condition with a combination of lifestyle changes and appropriate medical treatment. Presented by Colleen Schomburg, PT, UPMC physical therapist, this question and answer seminar will help you understand your risks for this bone disease.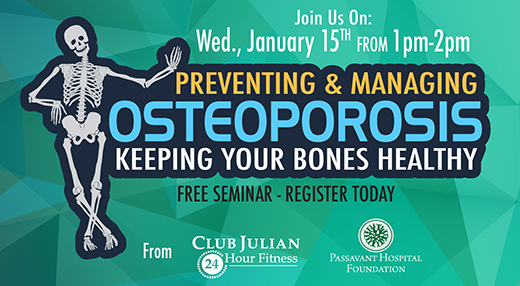 When it comes to maintaining optimum health, Club Julian encourages you to be proactive and have an improved quality of life! Today is the day you can begin to make healthy changes, so don't miss out on this special event.

This event is one of many great reasons to visit Club Julian in January. Call
412-366-1931 to reserve your space or CLICK HERE to quickly RSVP online. Space is limited so reserve your spot soon.