Effective Screenings For Memory And Dementia Symptoms
Greetings Club Julian Members,

PLEASE NOTE SPACE IS LIMITED TO JUST 8 PEOPLE FOR THIS EVENT. Our Wellness Wednesday Events are held every month and we want to remind you that you're invited to attend them for FREE. Join us on Wednesday, January 30, 2019 (from 1-2pm) as Alyson Mass, Speech Pathologist from UPMC, hosts a special cognitive screening event focusing on Memory and Dementia Assessments. Screenings will be 15-minutes per person.

This simple memory screening test, the Montreal Cognitive Assessment, is a quick and safe evaluation tool that checks memory and other thinking skills and is designed to assist detection of any mild cognitive impairment and suggest if any follow-up evaluations are needed. The screenings are private and the results are completely confidential.

Screenings make sense for anyone concerned about memory loss or who are experiencing warning signs of dementia; whose family and friends have noticed changes in them; or who believe they are at risk due to a family history of Alzheimer's disease or a related illness. Screenings also are appropriate for anyone with no current concerns but may want to see how their memory is now and for future comparisons.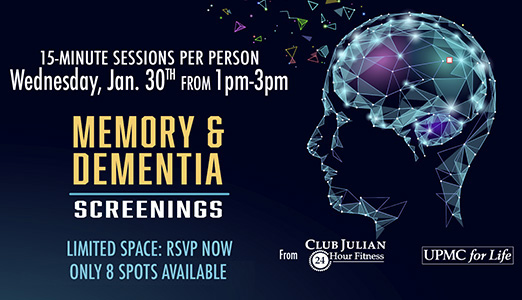 When it comes to maintaining optimum health, Club Julian encourages you to be proactive and have an improved quality of life! Today is the day you can begin to make healthy changes and learn more by joining us for this informative and interactive event.

This event is one of many great reasons to visit Club Julian in January. Call
412-366-1931 to reserve your space or CLICK HERE to quickly RSVP online. Space is limited so reserve your spot soon.