Begin Your New Exercise Program Safely And Effectively
Greetings Club Julian Members,

Our Wellness Wednesday Events are held every month and we want to remind you that you're invited to attend them for FREE. Join us on Wednesday, January 9, 2018 (from 1-2pm) for an informative seminar focusing on How To Begin A New Exercise Program.

Starting a fitness program is one of the best things you can do for your health. Physical activity can reduce your risk of chronic disease, improve your balance and coordination, help you lose weight - and even improve your sleep habits and self-esteem. And there's more good news. You can start a fitness program safely and effectively by focusing on a few simple things.

Craig Maartmann-Moe, physical therapist from UPMC Centers For Rehab Services, will discuss how to plan your new routine, how to assess your fitness level and objectives, and how to listen to your body and build on your progress.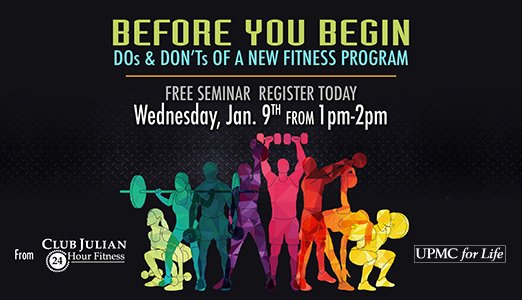 When it comes to maintaining optimum health, Club Julian encourages you to be proactive and have an improved quality of life! Today is the day you can begin to make healthy changes and learn more by joining us for this informative and interactive event.

This event is one of many great reasons to visit Club Julian in January. Call
412-366-1931 to reserve your space or CLICK HERE to quickly RSVP online. Space is limited so reserve your spot soon.