Arthritis Facts: Causes, Treatments & Managing Pain
Greetings Club Julian Members,

Our Wellness Wednesday Events are held every month and we want to remind you that you're invited to attend them for FREE. Join us on Wednesday, February 5, 2020 (from 1pm - 2pm) for an informative seminar focusing on the causes, treatments and living a life with arthritis.

Arthritis is the swelling and tenderness of one or more of your joints. The main symptoms of arthritis are joint pain and stiffness, which typically worsen with age. The most common types of arthritis are osteoarthritis (a breakdown of cartilage in the joints) and rheumatoid arthritis (an attack of the lining of the joints by your immune system). Arthritis isn't just physically painful but can also be isolating and discouraging.

Treatments vary depending on the type of arthritis. The main goals of arthritis treatments are to reduce symptoms and improve quality of life. Presented by Pamela Nutt, MOT, OTR/L, Occupational Therapist at UPMC Centers for Rehab Services, this question and answer seminar will help you understand the causes, treatments of this condition and how to live your best life if you suffer with arthritis.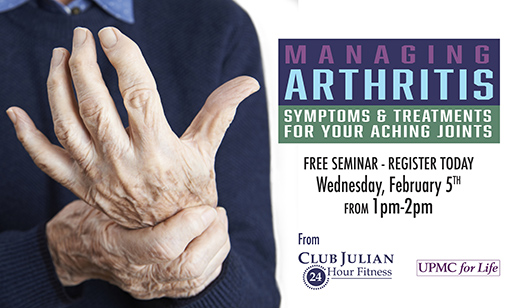 When it comes to maintaining optimum health, Club Julian encourages you to be proactive and have an improved quality of life! Today is the day you can begin to make healthy changes, so don't miss out on this special event.

This event is one of many great reasons to visit Club Julian in February. Call
412-366-1931 to reserve your space or CLICK HERE to quickly RSVP online. Space is limited so reserve your spot soon.