Understanding Parkinson's Disease Seminar
Greetings Club Julian Members,

Our Wellness Wednesday Events are held every month and we want to remind you that you're invited to attend them for FREE. Join us on Wednesday, February 6, 2019 (from 1-2pm) for an informative seminar focusing on Parkinson's Disease: Prevention, Symptoms and Treatments.

Parkinson's Disease (PD) is a progressive nervous system disorder that affects movement. Symptoms start gradually, sometimes starting with a barely noticeable tremor in just one hand. Tremors are common, but the disorder also commonly causes stiffness or slowing of movement. Nealry 60,000 people are diagnosed each year with PD and around 1 million are currently living with the disease. Varied symptoms often occur around age 60 or older but can affect people in their 40s or younger. Actor Michael J. Fox, advocate for PD research, was disgnosed at age 29.

Justin Lander, CRNP, from UPMC Passavant Hospital's Department of Neurology will cover how the disease is prevented, detections of the cause, treatments with medications and surgery as well as how it impacts exercise and movement.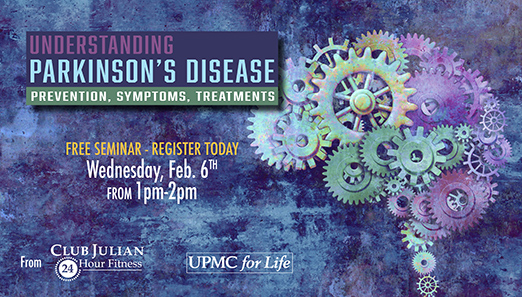 When it comes to maintaining optimum health, Club Julian encourages you to be proactive and have an improved quality of life! Today is the day you can begin to make healthy changes and learn more by joining us for this informative and interactive event.

This event is one of many great reasons to visit Club Julian in February. Call
412-366-1931 to reserve your space or CLICK HERE to quickly RSVP online. Space is limited so reserve your spot soon.