Is Your Lower Back & Neck Pain From Spinal Stenosis?
Greetings Club Julian Members,

Our Wellness Wednesday Events are held every month and we want to remind you that you're invited to attend them for FREE. Join us on Wednesday, December 4, 2019 (from 1pm - 2pm) for an informative seminar focusing on symptoms and treatments related to spinal stenosis.

Often caused by age-related wear and tear related to osteoarthritis, spinal stenosis can put pressure on the spinal cord and the nerves within the spine. Pain is a key symptom, which commonly occurs in the neck and lower back, and is caused by a narrowing of open space in the spinal canal which then places pressure on the adjacent nerves.

Some people with spinal stenosis may not have symptoms. Others may experience pain, tingling, numbness and muscle weakness. Presented by Mark Fye, MD, UPMC Orthopedics Specialist, this question and answer seminar will help you understand risk factors and symptoms of spinal stenosis as well as successful prevention and treatment methods being used today.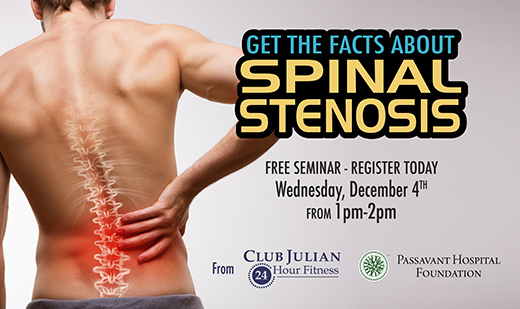 When it comes to maintaining optimum health, Club Julian encourages you to be proactive and have an improved quality of life! Today is the day you can begin to make healthy changes, so don't miss out on this special event.

This event is one of many great reasons to visit Club Julian in December. Call
412-366-1931 to reserve your space or CLICK HERE to quickly RSVP online. Space is limited so reserve your spot soon.