Is Sleep Apnea Hurting Your Health?
Greetings Club Julian Members,

Our Wellness Wednesday Events are held every month and we want to remind you that you're invited to attend them for FREE. Join us on Wednesday, December 5, 2018 (from 1-2pm) for an informative seminar focusing on Sleep Apnea.

Randy Kelly and Todd Palmer, of UPMC, will be discussing the symptoms and treatments of this harmful sleep condition and its effects on your long-term health.

Sleep apnea is a potentially serious sleep disorder in which breathing repeatedly stops and starts. If you snore loudly and feel tired even after a full night's sleep, you might have sleep apnea. Other symptoms include morning headaches, awakening with a dry mouth, excessive daytime sleepiness, and difficulty focusing or paying attention during the day. This interactive seminar will give you the important information you need to know.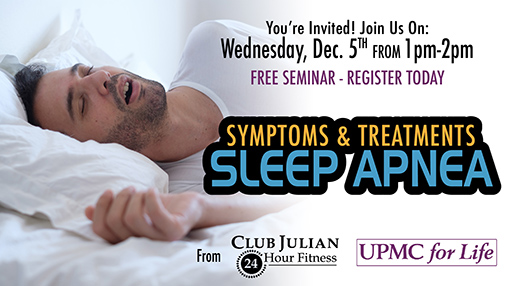 When it comes to maintaining optimum health, Club Julian encourages you to be proactive and have an improved quality of life! Today is the day you can begin to make healthy changes and learn more by joining us for this informative and interactive event.

This event is one of many great reasons to visit Club Julian in December. Call
412-366-1931 to reserve your space or CLICK HERE to quickly RSVP online. Space is limited so reserve your spot soon.