Get Your Individual Balance and Fall Prevention Screening
Greetings Club Julian Members,

Club Julian, with UPMC Centers for Rehab Services, is pleased to offer complimentary balance and fall prevention screenings to our members on Monday, December 4 from 1:40pm - 3:45pm in our aerobics studio. Your personal assessment will evaluate gait, balance integrity, symptoms of imbalance and dizziness to determine potential risks of falling. Each participant will receive a score based on the norms for their age group along with information specific to their risk and effective techniques to help minimize those risks.

These individual, 20-minute screenings will be conducted by Dana Smithnosky, PT, DPT, Tracy Spitz, MPT, CBIS and Mary Kay Walsh, PT, DPT, MS, specialist from UPMC Centers for Rehab Services.

Falls are a major threat to the health and independence of older adults and, each year in the United States, nearly one-third of older adults experience a fall. Falls are preventable, so join us to learn about your risk factors and how you can reduce your chances of serious injury.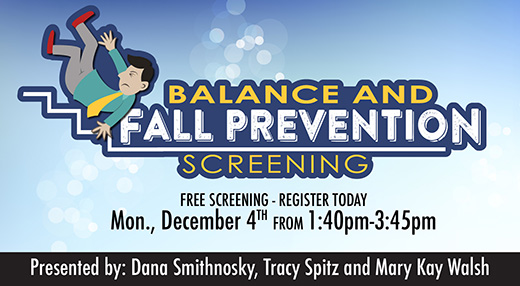 When it comes to maintaining optimum health, Club Julian encourages you to be proactive and have an improved quality of life! Today is the day you can begin to make healthy changes and learn more by joining us for this informative and interactive event.

This event is one of many great reasons to visit Club Julian in December. Call
412-366-1931 to reserve your space or CLICK HERE to RSVP by entering your name and FALL PREVENTION in the comments section. Space is limited so reserve your spot soon.