Deawna And Jen Return For Holiday Fun Friday, Dec. 29
Seasons Greetings Club Julian Members,

Back by popular demand, Deawna and Jen Pearson are amping up the funky fun for an all new holiday edition of their Friday Night Dance Party! This exciting two hour event happens on Friday, December 29 from 5:30pm-7:30pm.

Once again, they will team teach this MEGA Dance Fitness Party featuring your favorite songs from RAvEnergy! and Zumba. This party is going to have a nightclub feel with dance floor lighting and, to amplify the fun, there's going to be healthy snacks, amazing giveaways - AND glow sticks!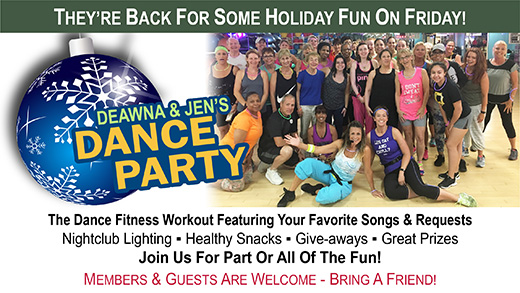 No registration is necessary! Feel free to attend part or all of the party as you wish and also feel free to bring a guest - the more the merrier! And if there's a song you haven't heard in class for a while, click to email Deawna@D-Fit.com or Jen P. and let them know your song request before the party (the sooner the better).

In the spirit of holiday giving, our event is raising money for THON, a student-run organization that supports the fight against childhood cancer. A donation of $5 per person is suggested, but feel free to contribute any amount that you wish.