Last Chance! Special Pricing On Foam Roller Workshop
Greetings Club Julian Members,

This is a final reminder that Club Julian is offering discounted pricing on the return of Deawna's 2-hour Foam Roller Workshop. The early bird rate ends soon, so click here to register by August 5 for reduced pricing!

The workshop is next Saturday, August 12 from 1-3pm at Club Julian. Deawna will walk you step-by-step through the use of a foam roller to reduce aches, pains, knots and tension throughout the body. And when you register for this class, you'll receive a free high-density foam roller from Deawna that is yours to keep.

The foam roller is very versatile and can be used for warm-up, exercise, post-workout recovery, self-massage and relaxation. You'll learn various techniques ranging from the traditional movements of rolling on the floor to modifications such as using a wall or chair, so you can get the most out of using the foam roller.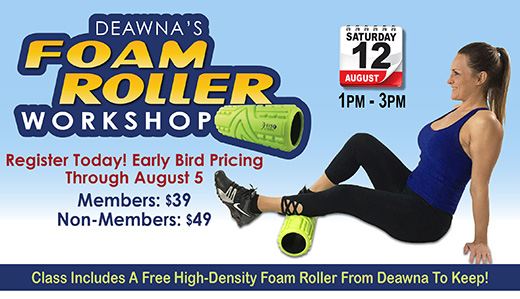 Register today and discover how to use the foam roller to:
• Promote muscle recovery
• Reduce pains and aches
• Release tension and knots in muscles
• Lubricate joints
• Improve flexibility, strength, relaxation and posture
• Learn self-massage techniques and much more

Whether you are a first-timer or a fitness enthusiast, there is something for YOU in this workshop. Bring a friend or someone you know who can also benefit from a better balanced, well-aligned, more flexible and tension-free body!

Register by August 5 and get special pricing of just $39 for Club Julian members ($49 for non-members). CLICK HERE to get the special pricing offer before the deadline or call 412-366-1931 to reserve your space and pay at the front desk. Space is limited so reserve your spot soon.