Wellness Wednesday Seminar - Alcohol and Your Heart
Greetings Club Julian Members,

Our Wellness Wednesday Events are held every month and we want to remind you that you're invited to attend them for FREE. Join us on Wednesday, August 7, 2019 (from 1-2pm) for an informative seminar focusing on Alcohol Consumption and Your Heart Health.

While the health risks of drinking alcohol can vary widely from person to person, it is important to understand that certain health conditions can make drinking alcohol more dangerous. For example, some people who are on cholesterol-lowering medicines may experience muscle aches when they drink. If you are predisposed to being diabetic or tend to have high triglycerides, alcohol can negatively affect your health. Uncover the facts and common misconceptions about how much alcohol (and what types, if any) are good or bad for you.

Presented by Darlene Morocco, MHA, RN, NE-BC, Director of Cardiovascular Services at UPMC, this question and answer seminar will help you learn how alcohol can affect your own heart health and cardiovascular system, including its links to high blood pressure, diabetes, obesity and heart attacks.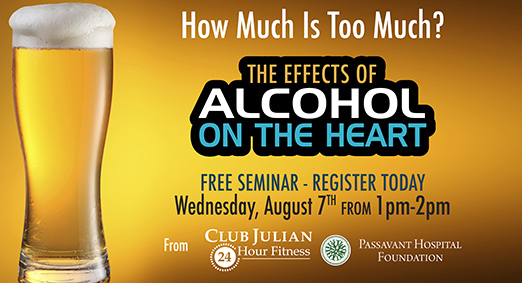 When it comes to maintaining optimum health, Club Julian encourages you to be proactive and have an improved quality of life! Today is the day you can begin to make healthy changes and learn more by joining us for this informative and interactive event.

This event is one of many great reasons to visit Club Julian in August. Call
412-366-1931 to reserve your space or CLICK HERE to quickly RSVP online. Space is limited so reserve your spot soon.