Understanding and Managing Chronic Pain
Greetings Club Julian Members,

Our Wellness Wednesday Events are held every month and we want to remind you that you're invited to attend them for FREE. Join us on Wednesday, April 10, 2019 (from 1-2pm) for an informative seminar focusing on Chronic Pain Causes, Symptoms and Treatments.

Chronic pain can begin with an injury or a problem such as a bulging disk in the spine. It can be associated with complex syndromes such as fibromyalgia. Or you may experience it as recurring headaches, back pain, joint pain, nerve pain, or many other localized symptoms. It is usually defined as any pain lasting more than 12 weeks and differs from 'normal' pains, which tend to subside once an injury heals. If you are experincing ongoing pain, you'll want to learn more by attending this upcoming question and answer seminar.

Pam Nutt, UPMC Occupational Therapist and Chronic Pain Management Specialist, will discuss the various types of chronic pain, along with related symptoms, causes and methods of managing, treating and preventing the condition.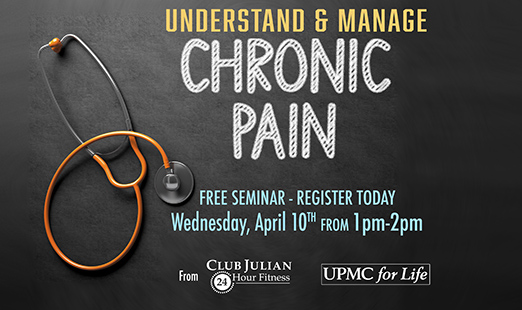 When it comes to maintaining optimum health, Club Julian encourages you to be proactive and have an improved quality of life! Today is the day you can begin to make healthy changes and learn more by joining us for this informative and interactive event.

This event is one of many great reasons to visit Club Julian in April. Call
412-366-1931 to reserve your space or CLICK HERE to quickly RSVP online. Space is limited so reserve your spot soon.