April 18 Seminar: Maximize Your Social Security Benefits
Greetings Club Julian Members,

Club Julian is pleased to announce the latest seminar in our Financial Fitness series. This event is part of our Wellness Wednesday event programming and you are invited to attend for FREE. Join us on Wednesday, April 18th, 2018 (from 1-2pm) for an informative session that will show you the best methods for Social Security Planning. The event is open to members and non-members, so feel free to bring a friend.

Whether you are planning for Social Security or already on it, you will review valuable options that can maximize your savings and benefits. Presented by Conor McKenzie, of Janney Montgomery Scott LLC, this question and answer event will help you make sense of all the confusing choices you have so you get the most of your lifetime of earnings.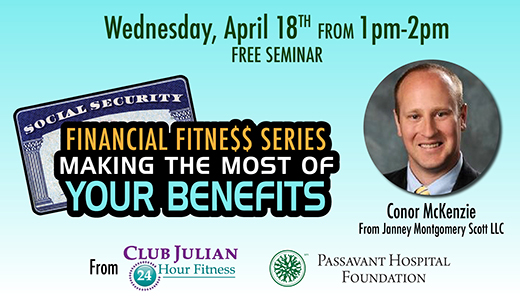 When it comes to maintaining optimum health, Club Julian encourages you to be proactive and have an improved quality of life! Today is the day you can begin to make healthy changes and learn more by joining us for this informative and interactive event.

This event is one of many great reasons to visit Club Julian in April. Call
412-366-1931 to reserve your space or CLICK HERE to quickly RSVP online. Space is limited so reserve your spot soon.