Financial Fitness: Protect Yourself From Identity Theft
Greetings Club Julian Members,

Club Julian is pleased to announce the latest seminar in our ongoing Financial Fitness series. As part of our Wellness Wednesday seminar programming, you are invited to attend the event for FREE. Join us on Wednesday, April 19th, 2017 (from 1-2pm) for an informative presentation about Identity Theft Threats: How To Protect Your Finances. It's open to members and non-members, so feel free to bring a friend.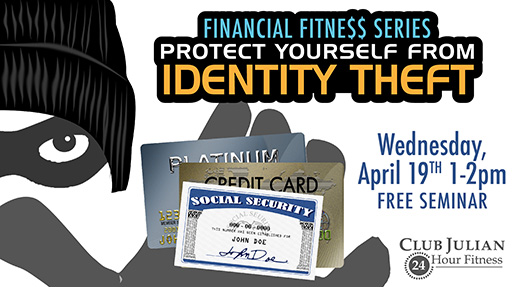 There are more ways than ever for criminals to steal your identity. They can open accounts, buy properties, and even steal tax refunds in your name. Business Development Banker, Jessica Sharbaugh, AVP, of S&T Bank, will show you how almost everyone is vulnerable to identity theft, even when you're not online. You'll learn valuable, common-sense techniques to help protect your finances, your credit, medical and tax records as well as your reputation from this growing crime that snared over 15 million U.S. consumers last year alone!

This event is one of many great reasons to visit Club Julian in April. Call
412-366-1931 to reserve your space or CLICK HERE to RSVP by entering your name and IDENTITY in the comments section. Space is limited so reserve your spot soon.