New Ballroom Dancing Experience Starts April 14 at 7pm

Greetings Club Julian Members,

It's back! Our new 6-week series of Thom Harding's Ballroom Dancing Experience begins at Club Julian on Friday, April 14 from 7pm - 8pm. If you're interested in learning the basic steps and graceful movements of the most popular ballroom dances, this series is for you - and don't forget the exercise benefits that dancing provides. Everyone is invited to try the free Introduction class on Friday, April 7 at 7pm. Returning students can pick up right where they left off with these classes too. You do not need a partner to participate but if you bring a friend or non-member with you, they will get a complimentary 2-week VIP pass to Club Julian when they attend this series.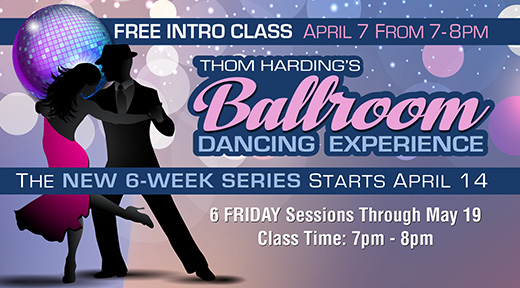 All six classes are just $50 for members and $60 for non-members - so bring a friend and have a great time on Friday evenings. Payment can be made at the front desk before your first class.



The class is hosted by professional dance trainer Thom Harding, a former National Champion with Fred Astaire International and instructor at many dance studios in the Pittsburgh area. No dance experience is necessary - so come and learn something new while having a great time on Friday evening!

Space is limited so register today! Call the Club at 412-366-1931 to reserve your space or CLICK HERE to RSVP by entering your name and BALLROOM in the comments section.